Certified quality
from design to final product
The production of industrial machines requires design abilities and cutting-edge technological solutions, as well as a focus on total quality control. For this reason, we take the current regulations as a standard and commit to satisfying the strictest certification rules. Geoclima is certified UNI EN ISO 9001:2008 for the quality of the management system of Geoclima Srl and of production facilities of Geoclima Russia and Geoclima Asia.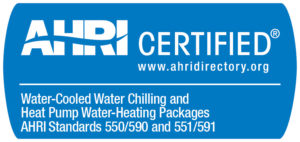 In 2017 Geoclima has earned the trusted AHRI® mark, an assurance of the product's performance, for the water cooled range of products as an Original Equipment Manufacturer. With AHRI WCCL certification customers and end-users are assured that Geoclima Water Cooled Chillers will perform in accordance with the performance values declared in the technical documentation and in the selection software Geoselectool.
In July 2014 we obtained the F-Gas Company Certificate for the "Activities of installation, maintenance or servicing of stationary refrigeration, air conditioning and heat pump equipment containing certain fluorinated greenhouse gases", in compliance with DPR N 43 of 27 January 2012 and European Regulation No. 303/2008. Geoclima is registered in the (Italian) National electronic register of certified companies and individuals: www.fgas.it.
Geoclima earned also GOST R certification for the Russian market and PASCAL certification.